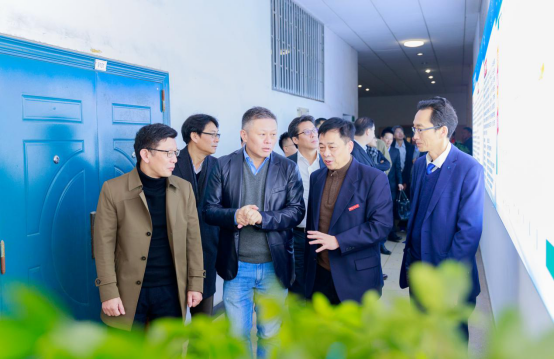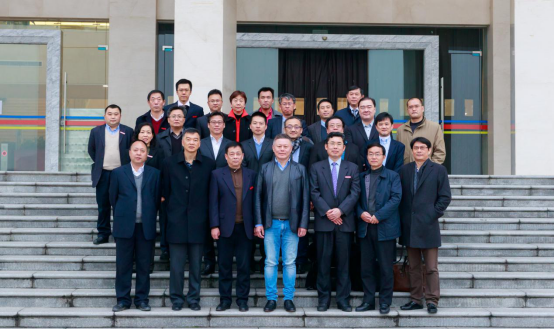 Campus Network News On the morning of January 25th, Shen Shirong, the CEO of New Kinpo Group visited Yueyang. He came to HNIST to start the cooperation project. Huang Junyi, secretary of the working committee of Xinling District, Hunan, was accompanied by the school leaders Li Ming, Lu Xianming and others.
Shen Shirong and his entourage went to the shoreline of the lake surrounding campus, the Baling Talent Apartment, the library, the 3D printing laboratory and the site selection of the Industry-University-Research Building for investigation. Party Secretary Li Ming and Principal Lu Xianming introduced the achievements of the school's development in recent years. They also briefly introduced the basic facilities to be built on campus such as the Industry-University-Research Building, the Experimental Training Center, the Sports and Teaching Complex and the Baling Talent Apartment.
During the school visit, Li Ming and Lu Xianming said that as an undergraduate university in Yueyang City, the school will aim to fulfill Yueyang's new demand for talent. It will also strive to bring intelligence and scientific research in economic and social development, as well as further meeting the needs of local enterprises. The goal is to strengthen school-enterprise cooperation, and integration of production and education. In light of the rapidly growing 100 billion yuan electronic information industry in Yueyang City, the school will deeply meet the needs in the development of the New Kinpo Group. The university will actively promote research and development, personnel training, and industrial support, therefore promoting the cooperation between schools and enterprises to achieve mutually beneficial cooperation. The school and enterprise also discussed the location of the New Kinpo Group Yueyang R&D Center.
As one of the world's top 500 companies, the New Kinpo Group has achieved fruitful results in 3D printing technology, semiconductor design, artificial intelligence service robots, big data analysis and applications. In August 2018, the New Kinpo Group and Yueyang Chenglingji Comprehensive Bonded Zone officially signed a contract on a 10 billion yuan investment project. This project would create an annual output of 13 million inkjet printers, and strive to build its Yueyang base. It is reported that the New Kinpo Group is currently promoting R&D centers,3D printers, robots, industrial 4.0 and other potential downstream industries to settle in Yueyang. (Writer/Yuan Xuan Photographer/Liu Zhang Editor/Si Nianwei Translator/Peng Binbin)