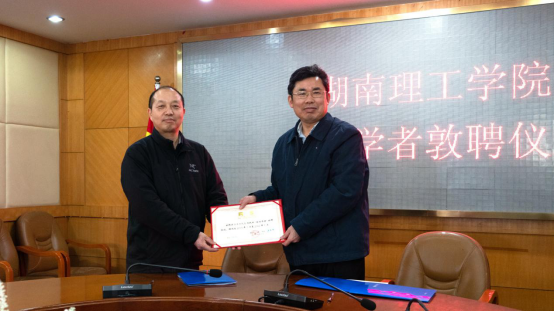 On January 22,Professor Zhang Chunxi, director of the Institute of Optoelectronic Technology, Beijing University of Aeronautics and Astronautics, PhD supervisor of optical engineering and chief scientist of "973" project, was officially appointed as "Nanhu Scholar".
Under the witness of school leaders Liu Yigong, Zhang Guoyun, Wang Qinghua and the optical research team of the Institute of Materials and Electronics, President Lu Xianming issued the letter of appointment for Professor Zhang.
Professor Zhang said that he was very pleased to be appointed as a "Nanhu Scholar" of Hunan University of Science and Technology. He said, "In the future, I will take the initiative in discipline construction, young teacher training, laboratory construction and optical engineering master's point construction, promote industry-university-research cooperation further, and to achieve the transformation of scientific research results in the industrialization development."
President Lu welcomed Professor Zhang to the university as a "Nanhu Scholar", and introduced the basic development situation of the university as well as the layout of disciplines and majors. President Lu expects that under the leadership of Professor Zhang, the discipline team construction will be strengthened to improve the overall research level and make a positive contribution to the university's bid for "high-level, application-oriented universities construction and doctoral conferring institution application".
It is reported that Professor Zhang's main research direction was fiber optic gyroscope and its navigation system, photoelectric detection and signal processing, optical waveguide and integrated optical technology. In 2000, he won the second prize of National Defense Science and Technology. Now, he is the one who's in charge of the national defense pre-research, the key project of "863" plan, and pin charge of the construction of the key laboratory of the engineering research of Beijing University of Aeronautics and Astronautics.
The related leaders of Party and government office, science and technology department, personnel department, college of materials and electricity attended the ceremony. (Writer/Yuan Xuan Photographer/Xu Haoyu Editor/Si Nianwei Translator/Yin Yihuan)