Our Competitors Achieved Excellent Results in the 24th Hunan College Students English Speech Contest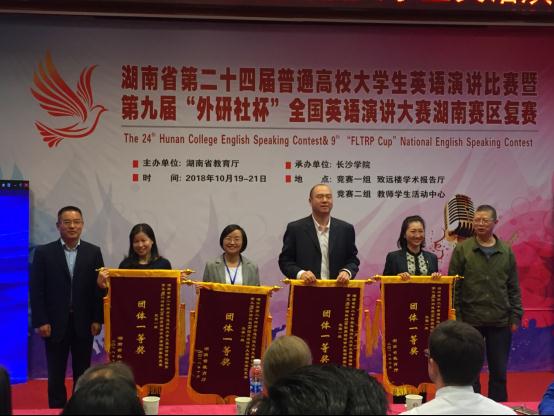 From October 20th to 21st, Hunan education department hosted the 24th College Students' Speech Competition and the 9th "Foreign Research Association Cup"of national English speech contest in Hunan ended successfully in Changsha College.
Our contestants perform excellently, conquering judges and audiences with flowing language, flexible reaction and relaxed stage expression. The delegation of our institute won the first prize of the group and created the best result in similar competitions. Qin Xizhe, English majors of foreign language college, Grade 16, won the first prize in the professional competition group. Yang Chao, computer science and technology majors, won the first prize in the non-professional competition group. Xu Shuo , international economics and trade majors, won the third prize in the non-professional competition group.
The speech team of foreign language college is responsible for the training of the competition. The three contestants have received professional training and class exercises for three months. Teacher Wu Hui served as a tutor for three students. Zou Juanjuan, vice dean of foreign language college answered doubts and settled problems. All members of the speech team, including Jonathan Strauss, a foreign teacher, worked hard for the contest. During the tense competition of one and a half days, the three players showed their excellent demeanor in critical thinking and speech skills under the guidance of their instructors.
The speech contest has been highly valued and strongly supported by the institution leadership and dean's office. It is of great significance to improve the enthusiasm and initiative of our students in learning and expanding their horizons.