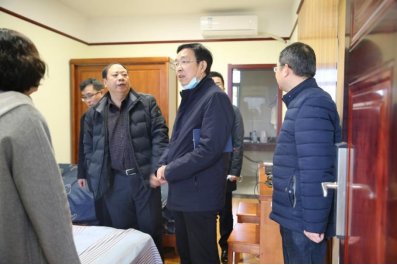 President Ning Liwei inspected the accommodation of students who were unable to go home due to the epidemic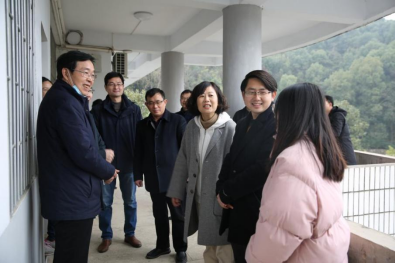 With the efforts of all parties, the students who were unable to go home due to the epidemic felt the strong love of the school and teachers
Campus Network News Free accommodation, send the meal to the dormitory, 1000 yuan subsidy, etc. These are all the care programs customized by Hunan Institute of Science and Technology (HNIST) for students who are unable to return to their hometown and "stay" at school due to the epidemic. "I am proud of living in such a school that treats students as their own children." After experiencing this ups and downs, Jia Feihe, a 2019 student from School of Fine Arts, wrote a long article expressing his gratitude.
Recently, President Ning Liwei led a team to inspect the school's winter vacation epidemic prevention and control work, and specially visited the second floor of the school hospital to express condolences to the students staying here. For the students unable to embark on the journey home due to the epidemic, the school reserved a warm harbor for them with love when they were at a loss.
On January 9, after the last test, Jia Feihe didn't feel any relaxation. On the one hand, his roommates were packing up and leaving school one after another, and on the other hand, a notice of "returning home after the epidemic situation improves" was sent from his hometown of Xingtai. Jia Feihe not only worried about the safety of her family, but also felt uncomfortable that she could not return home. Her tears broke down in panic.
The counselor immediately reported her situation after learning about it. According to statistics, a total of 7 students were unable to return home due to the epidemic, including 3 graduate students, 3 undergraduate students and 1 international student from Nigeria. Subsequently, Student Affairs Office coordinated with relevant departments to quickly plan and deploy. They first used the hospital ward of the school with better housing conditions as temporary dormitories for these students, and provided them with free air-conditioning and hot water, as well as meals. "The most incredible thing is that the school gave each of us a subsidy of 1,000 yuan." Zhang Yunliang, a senior student of School of Fine Arts who lives in Shijiazhuang, Hebei, said that with such a warm alma mater, it is a bit reluctant to graduate. It is reported that during the lunar new year, school leaders will arrange each student to spend the Spring Festival at the home of a familiar teacher.
In addition to material security, leaders and teachers at all levels went to the dormitory to comfort these students many times since the winter vacation to understand their difficulties, encourage them not to forget to study when they rest, and tell them to contact their families frequently at home to reassure their families. During the visit,President Ning Liwei asked relevant departments to ensure that they take good care of every student. He said that these students actively respond to the national call, reduce mobility and stay in school for the new year. And our school should also be responsible for doing a good job in logistics support, so as to reassure students and parents and ensure that they spend a warm and unforgettable spring festival in school.
Now, Jia Feihe still keeps her learning state at school every day, reading in the dormitory, studying in the library, or running on the playground. In her hometown thousands of miles away from here, a cousin who is one year older than her is a young nurse who is currently fighting on the front line of the epidemic. "Compared to such frontline medical workers, what I can do is not add chaos in the rear, and study hard in school and make a small contribution to the fight against the epidemic in my hometown."
"Although it is a pity that our kid is not at home this Spring Festival, I feel at ease thinking that she is safe now. Thank the school leaders and teachers for their care. Really appreciate." Jia Feihe's parents wrote in the WeChat Moments.
(Editor:Li Yixia, Preliminary reviewer:Si Nianwei, Final reviewer:Wang Qinghua)