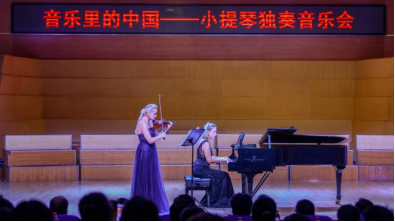 On May 27th, the school celebrated the 100th anniversary of the founding of the CPC- "China in Music" violin solo concert was held in the school's concert hall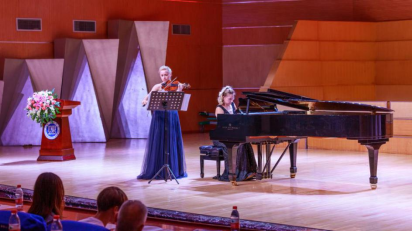 The well-known Russian violinist Anna Ganina and Belarusian pianist Katsiaryna Kaliasniova performed together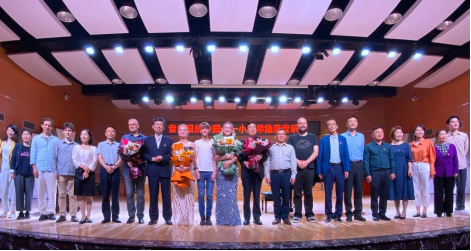 Group photo
Campus Network News "Playing a piece of traditional Chinese repertoire with a melodious violin, this is a new interpretation of Chinese classical music by Western instruments". On May 27th, with the pleasant violin sound and familiar Chinese traditional repertoire, the "China in Music" violin solo concert was held in the school's concert hall, a series of activities celebrating the 100th anniversary of the founding of the CPC. The well-known Russian violinist Anna Ganina and Belarusian pianist Katsiaryna Kaliasniova performed traditional Chinese repertoires with Western instruments to reflect the Chinese story of the music.
School leaders Lu Xianming, Ning Liwei, Zhang Guoyun, Xie Guihui, Xu Xiaoli, Ding Yuezhuo and more than 300 teachers and students attended the concert.
Anna Ganina stroked the violin strings gracefully, and Katsiaryna Kaliasniova's clever fingers jumped on the piano. With the theme of "China in Music", they used the violin and piano to perform a new interpretation of Chinese classics, and they performed "Jasmine", "Fisherman's Song at Dusk", "Celebrating of the Bumper Harvest Year", "Butterfly Lover" and other famous traditional Chinese classics affectionately, using the beautiful piano sound to express their sincere feelings for the Chinese people and their deep love for China, the "second hometown", which was refreshing and won rounds of applause.
"I love China very much. I love every tree and bush here. I have witnessed the rapid development of Hunan in the past 20 years and felt China's more open and inclusive development attitude", Anna Ganina showed her love for Hunan and Yueyang from time to time during the interview.
It is understood that Anna Ganina is a teacher of the School of Music. She has been working and living in Yueyang City, Hunan Province for 20 years. In 2006, she was awarded the "Ba Ling Friendship Award" by the Yueyang Municipal People's Government. In 2010, she was awarded by the Hunan Provincial Government. "Xiao Xiang Friendship Award". Anna Ganina loves traditional Chinese music. She skillfully integrates her understanding of Chinese culture and her feelings for the land of Sanxiang(Hunan) into her violin performance, and uses Western instruments to play classic Chinese repertoire and express a different feeling of China.
(Editor:Tian Xia, Preliminary reviewer:Si Nianwei, Final reviewer:Wang Qinghua)