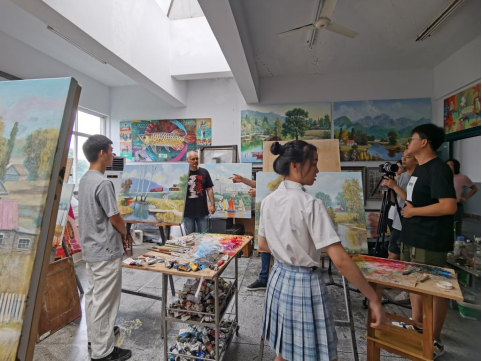 On July 4th, CGTN came to the school to interview Vladimir Ganin, a representative figure in the field of China-Russia cooperative education and a Russian teacher of our school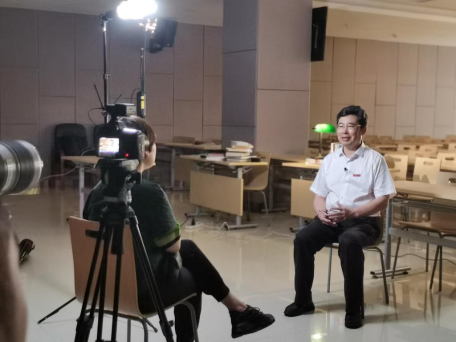 On July 5th, Party Secretary Lu Xianming was invited to accept an exclusive interview with CGTN
Campus Network News On July 4th, CGTN came to our school to interview Vladimir Ganin, a representative of China-Russia cooperative education and a Russian teacher of our school.
It is reported that, to commemorate the 20th anniversary of the signing of the "China-Russia Treaty of Good-Neighborliness and Friendly Cooperation", CGTN of China Media Group plans to produce a documentary featuring representatives of various fields of China-Russia cooperation. Vladimir Ganin, the Russian teacher of our school was selected. On July 4, the CGTN film crew interviewed Vladimir Ganin's family about their work and life at school.
Vladimir Ganin (Chinese name: Lao Wa), a Russian teacher of School of Fine Arts of our university, has been here for 19 years and is a witness of China-Russia friendship. In 2018, Lao Wa, as a special guest, witnessed the first "Order of Friendship" awarded by President Xi Jinping to Russian President Vladimir Putin in the Great Hall of the People. He himself had participated in President Xi Jinping's state affairs visit to Moscow and was cordially received by President Xi Jinping. In 2019, Lao Wa won the honorary title of "Huxiang Tribute Expert". In 2020, Lao Wa received the first foreigner green card in Yueyang City.
On July 5, Party Secretary Lu Xianming was invited to be interviewed by CGTN. In an interview, Lu Xianming said that "taking talents from all over the world and using them" is the core task of opening up education to the outside world and building "Double First-Class". The talent introduction work of our school is mainly based on the ideas of platform construction, full-time employment and remote cooperation, and has carried out innovative explorations in improving the working and living environment of foreign talents and improving the service guarantee system. For the housing, medical treatment, children's enrollment, career development, retirement system, etc. that foreign teachers care about, our school has first tested and issued corresponding policy documents to enhance the sense of belonging, acquisition and happiness of foreign teachers working in the school.
(Editor: Tian Xia, Preliminary reviewer: Li Yixia, Final reviewer:Wang Qinghua)